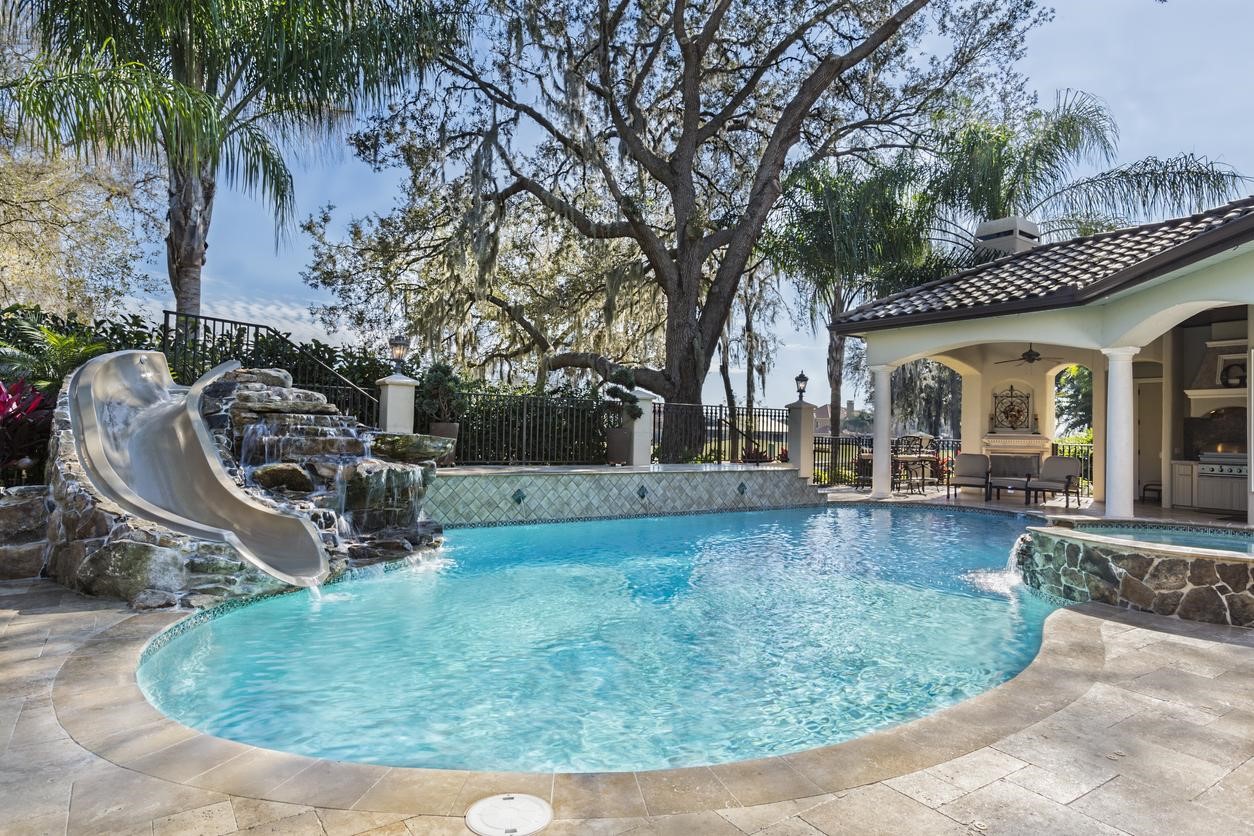 When you remodel your swimming pool, think about who will be using and enjoying it, when planning your design. Will the pool be set up for daily exercise and lap swimming or will it be used leisurely with young children? Determine who will get the most utility from your pool and rely on industry experts to design a space that is functional and aesthetically appealing for you. Update systems that promise to make the pool more efficient and which could save you significant money in costs to operate your pool over time.
Keep the following key factors in mind when remodeling your swimming pool:
Accessibility
Consider issues related to access during your pool remodel. Are features configured in a way that makes sense, now and later on? Properties change and landscapes evolve; before you settle on your pool remodeling plan, give some thought to accessibility now and in the future. This includes changes in how you want your green spaces, home construction projects, or newer installations that could impede or crowd your pool area. Make sure that your pool is in comfortable proximity of your home with a clear, convenient way to get from one area to another. If you want to change your landscaping, cut trees, or plant hedges, now is the time.
Also at this time consider accessibility into the pool. Are the users of the pool getting older? Do you need to add handrails for access? If you do not need them now will you in five years?
Curb Appeal
Speaking of your green space, naturally, you will want to put some focus on the curb appeal and visual interest of your pool area, which includes the pool landscaping. Consider not only aesthetics, but additional factors such as privacy, shade, and pests. Clever configuration of the right native species can create an easy-to-care-for landscape and pool deck. Use shrubs for privacy and shade near your pool but choose varieties that are natural pest deterrents. If you choose wisely, you may find that foliage and native plants create their own little eco-system, requiring little maintenance or effort on your part.
Safety
When it comes to pool safety, teach children to not swim or play near the pool drains. In spas or shallow pools, the suction outlets can be quite dangerous and the suction near the drain can be very strong and hazardous- even to adults.
In a remodel all suction ports and drains should be brought up to current codes for anti-entrapment. This will mean dual unblockable main drains or a single large channel drain with anti-hair snare covers. Always keep an eye on the drain itself to ensure the cover is securely fitted. Accidents involving the drain can occur even with new style drains when the covers are not secure.
In a remodel, side suction ports should be eliminated, but if they are remaining they need to be fitted with side suction auto-locking devices at a minimum.
You should always know where the emergency shut-off switch is located in case of an emergency before allowing anyone to swim on your property. If you are remodeling it is a good time to have a more convenient emergency shut off switch located near the pool area, as most are at the equipment pad now.
A safety pool cover, pool fences, and baby fences are integral to pool safety, too. In fact, adequate barriers that are a minimum of four-feet high are required by law of anyone with a swimming pool on their property in most jurisdictions. Talk to your pool specialist about alarms that can indicate when your pool deck and property have been breached, which is intended to keep children and pets out of the water when unsupervised. There should always be a gate that latches on your fence and never encourage or show children how to climb over the fence.
These are some of the items to consider for the safety aspects of your pool remodel project.
Technology
If you are updating or remodeling an existing pool, know that technology has helped automation come a long way in recent years. You have options for fully controlling your pool's temperature, pump, lighting, features- even music. You can create a system that is operated by an easy-to-use remote. Prefer to control your pool settings with a smartphone? You can do that, too! Talk to your pool design professional to learn more about implementing technology into your swim experience.
Drainage
You likely know the importance of drainage when it comes to your swimming pool, pool deck and patio; drainage upgrades and improvements are prudent ways of creating a safer and more efficient pool. In the best remodels a major upgrade to the drainage system is usually one of the first things considered. If you have an in-ground pool, proper drainage helps the water stay clean and prevents algae build up on the pool deck and patio. A good drainage system keeps debris, like leaves and vegetation, from entering and staying in your pool water.
Drainage also provides a place for runoff, like splashing and rain, to go when your pool overflows. When this runoff puddles on your pool deck, it could be creating a dangerous hazard that causes slips and falls. Furthermore, the excess water may foster the growth of algae and mildew, which also creates an unhealthy environment and slick surface underfoot. When left untended, these puddles of water may also stain your pool deck.
Pay some attention to where the water is being drained, such as your pool deck, landscape, or driveway; you could be creating costly repairs for yourself. Make sure that no downspouts are bringing water into your pool as it could contain debris, dirt, and harmful bacteria that are being put into the pool water. You don't want to flood your landscape, either; watch for signs that you may need to assess your pool deck drainage system, like standing water, flooding, damage, and landscaping issues. It may be that simple drainage systems need more formal equipment to deal with the runoff and flow.
Pool Equipment
Remodeling the pool is the perfect time to overhaul and improve the hydraulics and circulation of the pool. This involves complex mechanics, which should only be done by a qualified and experienced pool technician. Upgrading mechanical systems for your pool serves to make it more efficient and inexpensive to operate, a win-win situation for pool owners particularly if their current swimming pool is dated and inefficient to use. Know that allowing an unlicensed layman to alter or modify your existing pool could devoid any pool or home warranty that you currently pay for.
The best thing for you to do is to have a list of things you would love your pool to do, a list of what your pool does now that you don't like, and what it could do better. Armed with that list and the overall remodel project a pool professional can recommend the equipment and plumbing upgrades to see your pool meet and exceed your expectations.
Some items like variable speed pumps and motors, LED lighting and Automation are almost no brainer cost and time savings upgrades to consider in this phase of a remodel.
Plumbing
Is it time to re-plumb your pool? Do you have a spa and all the jets don't work, or a dead zone in the pool that always grows algae because it gets no circulation? Do you have issues regarding the plumbing, water usage, filling, leaks, or draining your pool? When you suspect the plumbing is dated or malfunctioning, the best thing that you can do is to call on the experts. Plumbing issues with a pool could be costing you money month after month in wasted water and utilities; have the situation assessed right away.
Hydraulically improving your pool during a remodel to include looped plumbing and loops at the equipment pad on the inlet and outlet sides will greatly enhance your pool's performance and your equipment's ability to work at its optimal. Giving you better safer water to swim in. This aspect of a remodel is highly technical and is mostly stuff that's buried underground – but don't overlook its importance in energy savings and in swimming quality.
Maintenance
Nobody wants to spend all their free time maintaining, cleaning, and working on their pool; don't over-design a pool area and deck that requires too much maintenance labor. The simple solution is to hire a local pool service to regularly clean, treat, and inspect your pool- so that you can enjoy crystal clear water whenever you want to take a swim. Commit to hiring help for your pool this season- and all year in mild climates.
When reviewing your pool service options, look for companies in the region that have experience and an established reputation among homeowners. Pool Troopers as the leader in pool service with an emphasis on customer satisfaction since 1952.
Pool Troopers is the go-to professional to call when you are tired of subpar service and shoddy results. Pool Troopers provides chemical, cleaning, and repair services, and take pride in offering the latest practices and industry trends in pool care and maintenance. Contact pool professionals today to learn more or schedule service.