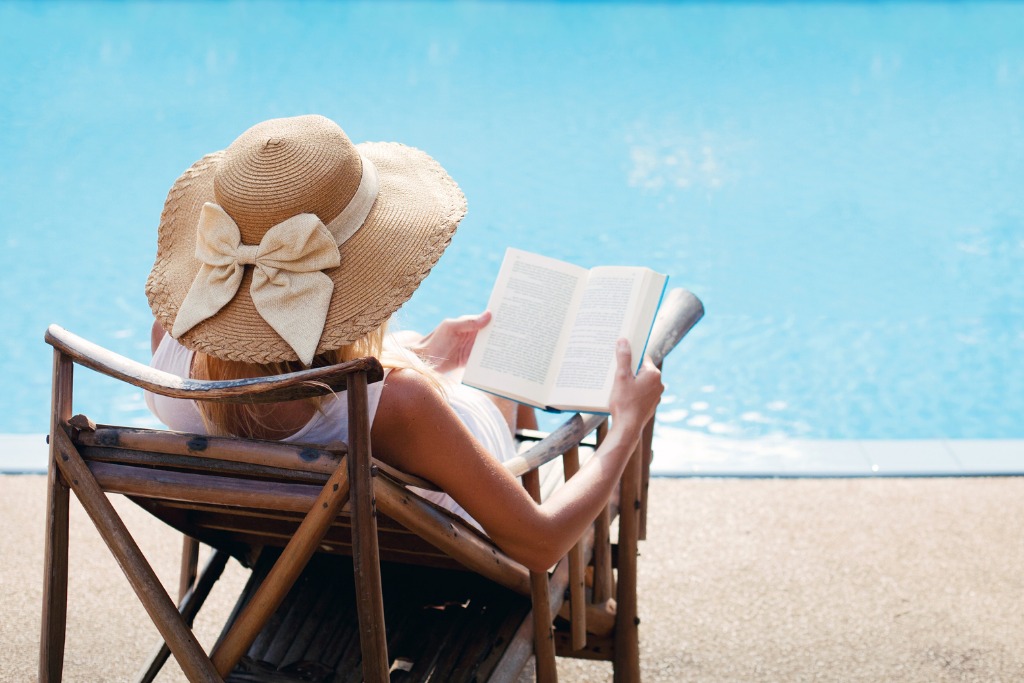 Summer is often deemed as the best time of the year to rest and relax at an exotic location on the beach or at a resort. Being out in the sun while having fun with your friends and loved ones is the perfect way to enjoy the season. In some cases, you may be on a budget, whether with time or money, it may not be a reasonable option to go out and enjoy a vacation.
For those who may not have time, resources, or the energy to travel during this time of year, there are tons of other great ways to enjoy your very own backyard! If you happen to own or have a neighbor with a backyard swimming pool, a staycation may be exactly what you need.
What is a Staycation?
A staycation is a taking a local holiday break, often while enjoying your abode and all its amenities. Going on an out-of-town trip can drain you and your bank account as well! If you have obligations at home, or pets to take care of, this is often a stress-free solution. There are several activities that you can do to have fun without ever having to leave your home or town.
Here are some ideas:
1. Go swimming.
Swimming in your backyard is the ultimate solution. Your pool is there waiting for you, along with your family and friends. A poolside staycation offers a lot of benefits, including, privacy, and health benefits. Swimming, as you may already know, is good for your heart, and can offer many other benefits, such as keeping in shape for the season!
If you have not started yet, swimming exercises are a great way to spend your summer. You do not have to be a fitness buff to do shallow water aerobics and even water yoga.
Aside from working out in the water, you can also throw a pool party. Prepare the music, barbecue, and other delicious foods and drinks to share with all of your friends and family.
Whether you will be swimming alone or inviting the neighborhood to join in, it is important to remember that pool water should be clean all year round, especially during the summer. Pool Troopers will help maintain the pool area and even provide you with advice for keeping your pool clean and safe. This way, you can keep swimming without worries throughout your staycation. Contact Pool Troopers to keep the water clean and balanced.
2. Get a relaxing massage.
A staycation does not mean you have to stay home all day, it can also be about going to other places and attractions in your local area. When you want to get a massage, the first thing that you may want to do is go to the spa; however, you can get the same service without needing to go out. Call on a trustworthy massage therapist and request a home service. It is an incredible and luxurious experience, especially if you have it outside next to your pool!
3. Go to the spa.
During your staycation, you may want to start a self-care strategy. Hitting the spa is certainly one of the best ways to care for yourself in different ways. You can have a spa getaway for a day or even more. It is gratifying and has become a popular form of healthy relaxation. 
Spa days can be a bit expensive, but with a little research, you can find the perfect place for you with your budget in mind. Spas have tons of benefits to offer for both physical and mental health. Also, you do not have to spend the whole day at the spa. You can simply choose where you would like to spend your time, such as a steam room or sauna. Perhaps you want to get a facial or a deep tissue massage. All these experiences can wipe away your worries almost instantly.
4. Eat at your favorite restaurant.
You do not want to miss the opportunity to eat out while on a staycation. Now is the time to visit your favorite restaurant and order the food that you like best. You can bring your significant other with you, a friend, or you can dine alone. Even better, you can visit other restaurants that you have not tried before. It is like you are visiting a different place because of the new experience. Another option is to order out, and enjoy it in the comfort of your home, or out relaxing by your pool!
5. Go to the park.
You do not need to spend a ton of money to enjoy your staycation. You can go to the nearest local park and it can make your time off enjoyable. Staycations are a wonderful time to reconnect with nature. You can bring your dog with you for a walk, offering a great way to exercise for you and your pet. Get adventurous and discover the new trails in the park that you have never ventured down before. There are plenty of things that you can do while in the park including a cheerful picnic that you can enjoy with a friend. Depending on your location, you can also go swimming if there is a river or lake nearby. Boating and fishing are also excellent choices. You can never run out of things to do while in your local park!
If you simply want to take in the beauty of nature, you can just lay a blanket on the ground or sit on a park bench. When you get home, you will feel relaxed and rejuvenated.
6. Visit a local farmer's market.
We cannot deny the benefits and convenience that online shopping provides. However, old-fashioned shopping involving a wicker basket and some fresh produce from the local farmers can be quite exciting.
Try out certain products, such as local honey and cheese. Consider picking some beautiful flowers that you can take home with you for yourself or your loved one! You can always bring a friend with you to make the experience more enjoyable. 
7. Go to the Beach or Lake.
Nothing screams a summer staycation than going to the beach or lake. If you are in Florida, you have plenty of beaches to go to and if you are in Texas, lakes are the way to go! For those on a strict budget, driving to the nearest source of peaceful water will do. While there, enjoy a barbecue, playing Frisbee or volleyball with your companions, or sit back and relax while meditating to clear your mind.
8. Enroll in a class.
No matter what your hobbies may be, there is always a class for it. Depending on your interests, consider enrolling in cooking, art, or even a yoga class. You can start mastering chess or playing the keyboard. There are plenty of options for you and all you need to do is pick the right class that suits you. You cannot miss the opportunity to get out of the house and learn something new right in your city!
9. Clean your home.
For some, it may not be their idea of a staycation to clean, but for others, it may be just the thing they need in order to clear their mind and clutter! Get rid of the dusty corners, make the beds, and wipe the tables clean, and get rid of the things you have been meaning to years ago! Once you are done cleaning, you may consider rearranging your furniture both indoors and out! 
10. Camp in your yard.
Take your tent out and have dinner outside while watching the stars. You can invite your best friends! Bring your favorite books with you and make it realistic by bringing a flashlight and blanket. Make sure you have your mosquito repellent with you as well. If you're feeling up for it, take a midnight dip in your swimming pool while enjoying the summer night heat!
A huge percentage of Americans go into debt because they want to enjoy a lavish vacation. In fact, almost 75% of us spend more money paying for the hotel and travel expenses than we spend on the actual experiences of the place we are visiting. With a staycation, you can enjoy the best of both worlds. You can have fun without going into debt for travel and a room. 
We hope you discover the best plan for your staycation this summer! While you're waiting, contact us today to find out which locations we service in your city!