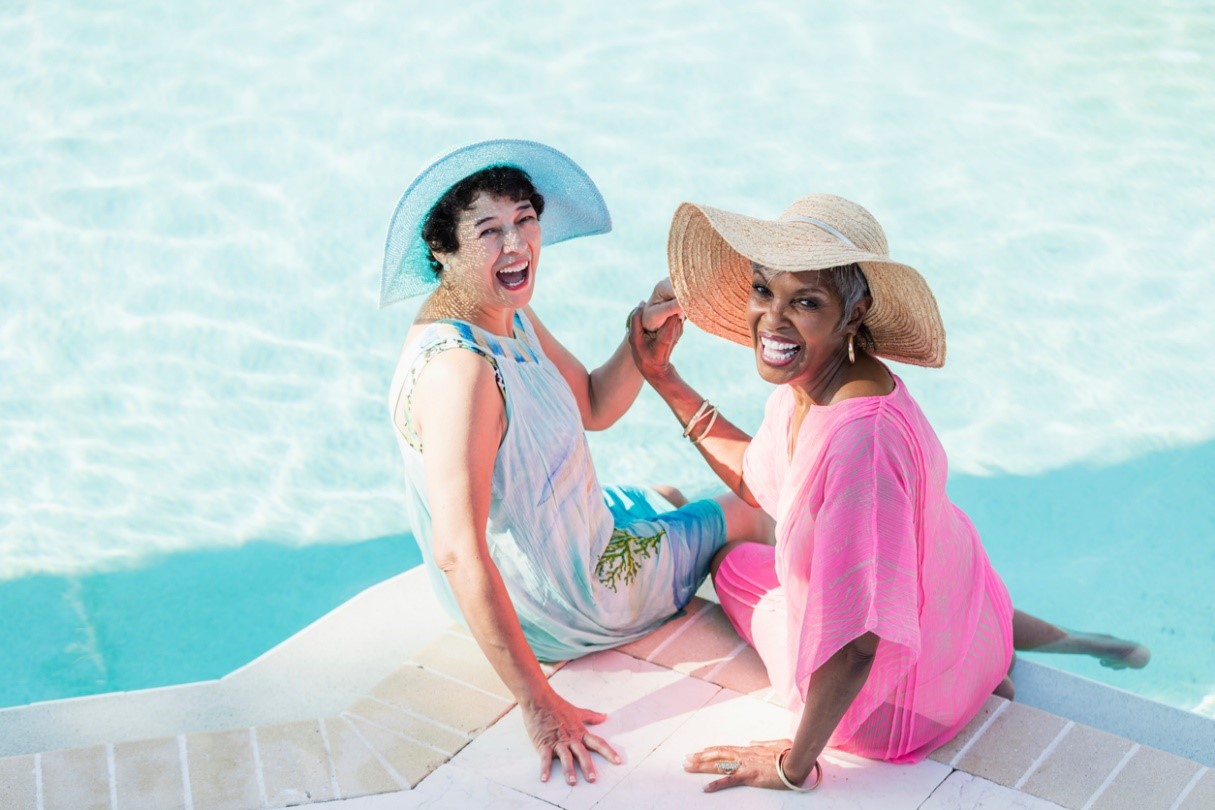 In light of COVID-19, is it safe to hang out with others at the pool? It is a confusing time and there is a lot of variances in terms of outbreak numbers, restrictions, and pool and beach precautions, depending on where you live. Generally, speaking COVID-19 restrictions are easing and lifting, so does that mean it is safe now to invite other people to your pool for a swim? Consult with the industry professionals at Pool Troopers to make sure your pool is sparkling clean and ready when the time is right.
So, is it safe to invite friends and neighbors to your pool? Professionals chime in on this issue:
Stay in the Water
The US Center for Disease Control asserts that there is no evidence currently that Coronavirus can be transmitted and spread through water, such as swimming pools or hot tubs. As long as the water is maintained and treated with chlorine, the virus is inactivated, in actuality. As for public pool and beach precautions, there are more risks to consider including shared surfaces and mere exposure to a greater number of people. Since size matters in this instance, public pools will be safer than public beaches. The CDC still encourages you to social distance and use good judgment when it comes to risks versus benefits of hitting the pool, lake, or beach. Also, don't wear face masks when swimming as it can be a health risk and choking hazard, but make sure to bring one with you and wear it on dry land when prudent.
Swimming is Safer
When it comes to swimming and Coronavirus, swimming is considered to be safer than other activities right now due to the fact that the virus isn't transmitted through water. If you have your own swimming pool, even better! Know that COVID-19 can survive and be transmitted on hard surfaces, like metal or plastic, for a period of up to 72 hours. Coronavirus also lingers in the air for up to 30 minutes. Wash your hands well and wear a mask when not swimming and you should be safe against any residual germs that you encounter, though you still run risks when exposed to other people at public pools or beaches. The safer option is to swim at home in your own pool!
Keep It Clean
Before you invite anyone over for a swim, make sure that your pool is clean and chemically treated properly. The best approach to maintaining a clean, yet convenient, swimming pool is to hire an industry professional. In Texas, Arizona, or Florida, you can rely on the expertise and diligence of Pool Troopers. Need pool repairs? This is the perfect time to take care of these matters. Make sure that your pool is as pristine and well-maintained as it can be before inviting others over during this confusing time. A crystal clean, blue clear pool will help make your guests feel safe and comfortable when they join you for a swim.
Don't Be in Denial
It is always good to be positive but don't be in denial about the risks associated with COVID-19. In some regions, municipalities are back-peddling on reopening so do not be surprised if you may need to wait before getting together with friends and family. Be cognizant of your own health and well-being. If anyone in your family or household is not feeling well don't minimize symptoms and the possibility of illness. Wait to have friends and other families over.
Know Your State Restrictions
Before inviting guests over to your home, it is most practical to be familiar with the state restrictions and guidelines for your region. It is confusing and restrictions are changing routinely. Visit online resources for your municipality to find out definitive guidelines for getting together, social distancing, and other limitations during this time of pandemic recovery.
Some examples of state guidelines surrounding Coronavirus include:
Arizona: The Governor of Arizona requirements and guidelines for gyms, movie theaters and water parks to reopen. It was previously issued for restaurants to limit indoor dining seating to less than 50 percent capacity. Gatherings of over 50 people are still prohibited, but local authorities can approve large meetings of people if certain safety precautions are met. The governor has restricted residential evictions until Oct. 31.
Florida: The Governor of Florida began Phase 2 of reopening the economy on June 5, and most counties are still in Phase 2 of the reopening plan. Restaurants are operating at 50% indoor capacity and movie theaters can reopen at 50 percent as well. It's been issued that bars generating 50% of their sales from alcohol to stop selling alcohol on site. Group gatherings of over 50 people are not recommended, and many cities in the state have a mask mandate.
Texas: The Texas Governor mandated that anyone older than 10 wear a face mask in indoor public places or when outdoors if unable to remain 6 feet apart. Gatherings of more than 10 people are prohibited at this time, but this does not apply to churches, governmental offices, or camps. Recently, the Governor restricted restaurants and other public businesses to operate at 50% capacity. Hair salons, nail salons, and other personal-care businesses are not restricted by the occupancy limit as long as workstations are 6 feet apart. Multiple Texas counties are mandating businesses to require their employees to wear masks.
Again, know that these restrictions and rules change regularly; depending on the outbreak numbers, these regions may revert back to previous precautionary phases or lighten the reigns on social distancing and occupancy limits.
So, is it safe to invite friends and family over to your pool for a swim? The short answer is 'yes'- but take precautions. Talk to the industry professionals at Pool Troopers, your full-service pool maintenance company for residential pool owners in Texas, Arizona, and Florida, to learn more about cleaning and treating your pool to prevent the transmission of COVID-19. Contact Pool Troopers today to learn more about industry trends, tips and tricks, and best practices for pool maintenance.