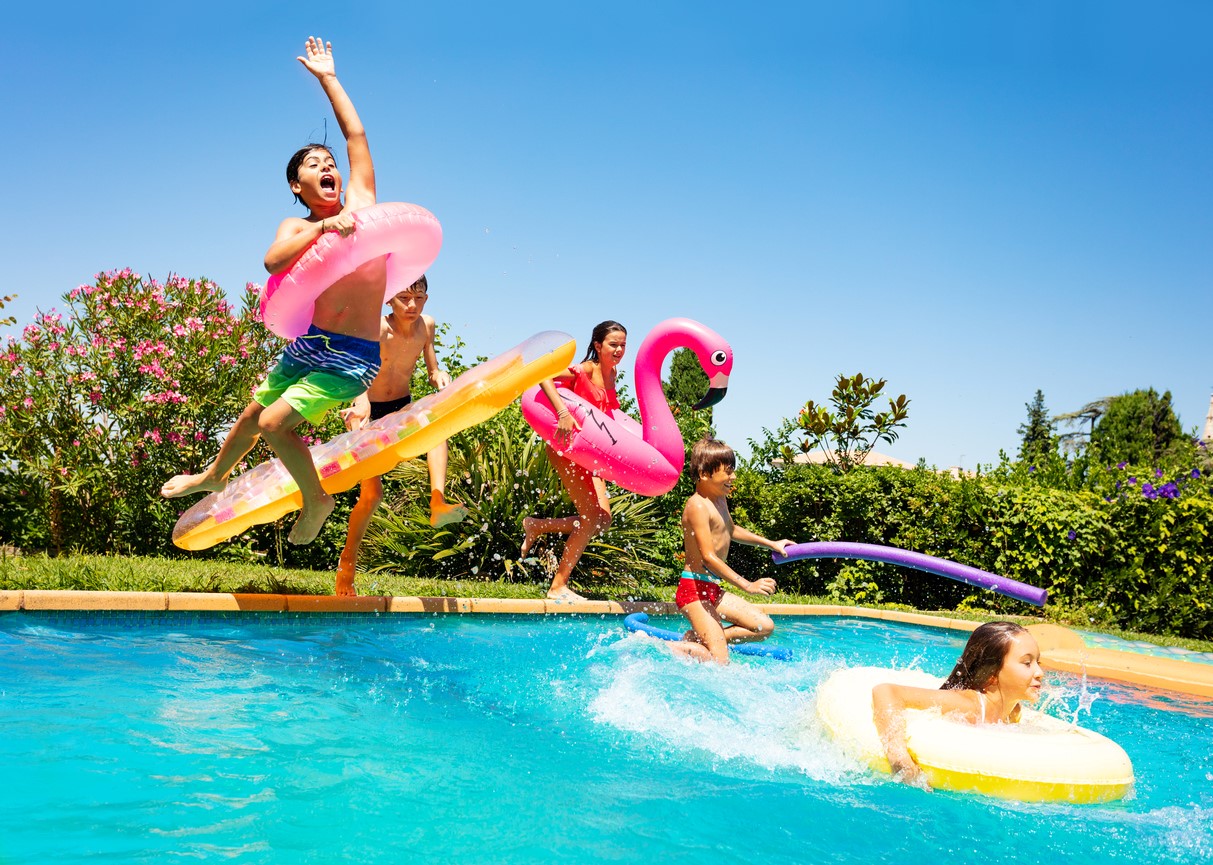 Quarantines and stay-at-home orders have caused many to feel like the walls are closing in on them – so take it outside! Social distancing doesn't mean that you can't enjoy your yard, garden, or porch anymore. In fact, this is the perfect time to fall in love all over again with your home's exteriors. Appreciate your backyard again and enjoy some quality time doing what you love while still staying at home. Make this the time that you improve and enhance your home surroundings, including your backyard and all its amenities, including your swimming pool or spa.
Does your pool need some professional help? Call us to learn more about our services.
Quarantine doesn't mean staying cooped-up inside; appreciate your backyard again with these tips:
Your Pool
Worried about COVID-19 in your swimming pool or spa? According to the Centers for Disease Control and Prevention (CDC), there is no research that supports the virus being spread through pool or spa water. As long as you are pool cleaning regularly and treating your water properly you should have nothing to worry about. Chlorine or Bromine, the chemicals used to prevent bacteria in pools and spas, are effectively inactivating the Coronavirus germs. Professional chemical service is the most convenient approach that residential pool owners can take in treating their pool and keeping the water safe.
Physical activity is a great way to cope with the circumstances of quarantines, which may make many complacent and sedentary. Get up and get outside! If you are lucky enough to have a pool, consider some ways that you can use it to stay in shape.
• Use your pool to workout and complete some basic, but very effective, pool exercises. Look toned and taut when stay-at-home orders are lifted!
• Just because you cannot hit the gym doesn't mean you need to give up on your fitness goals. Consider creating some easy backyard workouts. Use things that you have already for resistance, like a towel, canned goods, or a wall!
• Swimming is a fantastic way to build core strength.
• Lift yourself using your abdominal muscles up against the side of the pool, and then slowly lower your body back into the water. Feel that burn? Consider these vertical exercises to improve core strength, tone your arms, and increase overall endurance.
Got more questions about maintaining a healthy pool environment? Consider these frequently asked questions to learn more.
Outdoor Living Space
Set the stage in your backyard for outdoor fun; arrange an outdoor living area for dining, a game of cornhole, or enjoying a drink at the end of a long day. Although most regions are under stay-at-home orders or quarantine currently, eventually residents widely will return to normal life and be entertaining again. Get your green space ready for it! If space allows, create distinct areas for various activities like furniture near the firepit or a table and chairs for outdoor dining under the stars.
Some ideas for your outdoor space may include these:
• Invest in pavers to craft a small patio, big enough for a bistro table, a firepit, or your favorite lawn chair. These are available widely and can be easily installed by homeowners. Ask home improvement sellers for a list of materials needed.
• Make sure that you do not overlook outdoor lighting when sprucing-up the backyard. Solar power stake lights, spotlights, and footlights can help prevent a nasty fall and subsequent injury on your property.
• Install an outdoor shower near or around your pool. This serves two purposes: one, it is a fun feature that keeps dirt and mud from finding its way in your home, and two, it provides a way for everyone to rinse clean before entering your swimming pool.
• Really want to make some home improvements to your backyard area? Talk to a contractor about the costs and dynamics of installing an outdoor kitchen. Check out pictures online of homes with outdoor ranges, refrigeration, and even pizza ovens! Imagine the parties that you can host when the pandemic has passed…plus, it can improve the overall value of your property.
Do not forget the kids! Create a cool place for them to hang out under a pergola or near a swing. Suspend solar string lights for a mood-altering illumination that makes any space seem more special. Great outdoor lighting is also an excellent security feature that deters trespassers and prowlers from lurking around your property. Additionally, consider extra measures like a hedge or fence to prevent a clear view of or into your backyard. This can prevent passers-by and nosy neighbors from peering and peeking.
A Garden
A garden is more than a food source – it is also a cathartic place to spend time. There is something so rewarding about planting, nurturing, and harvesting something that you grow. Quarantines and stay-at-home orders are the ideal time to start gardening.
Place for Pets
Your pets are probably the happiest to have you and other family members at home right now. Make a spot in the backyard that is just for them and that is something engaging for them to enjoy. For instance, add a cute pet house or climbing tree for your pets to explore. Got a dog? Spend some time with them, tossing a ball, or setting up a sprinkler. Dogs love the water, but make sure to supervise them for safety.
Lovely Landscaping
What better time to get serious about your property's landscaping? Keep the lawn mown, trees trimmed, and invest in a weed-whacker. When the quarantine ends, you will have an improved curb appeal and better-looking backyard than you thought possible, and without paying a landscaper! Make this the time to plant perennials and start your seedlings for summer vegetables, flowers, and annual garden beds. Do not let this time of social distancing impact your backyard's flora and foliage.
Something Special
Create some magic in your backyard for cooped-up family members with a screening of a favorite movie using a smartphone or movie projector on side of the house or garage door. Spread out some blankets, light the tiki torches, and pop some popcorn for your own stay-at-home movie night.
Another idea is to invest in hardscaping features, like a gazebo or pergola. If you have the space, these are lovely places to sit in mild weather, but also serve as protection for plants and people from the elements. There are many online tutorials related to building your own backyard structure, or you can purchase prefabricated versions from home improvement stores widely.
Worry less about the transmission of germs with a well-cleaned and maintained pool. Avoid potential other risks with frequent handwashing, abstaining from touching surfaces that could be contaminated, and social distancing.
Make the most of your backyard during this trying time of quarantines and social distancing. Part of this entails getting your pool ready for recreation. Call on Pool Troopers to help. Pool Troopers is a full-service pool maintenance company serving residential pool owners since 1952. Appreciate your pool and property by showing them some love and attention. Call or contact us today!