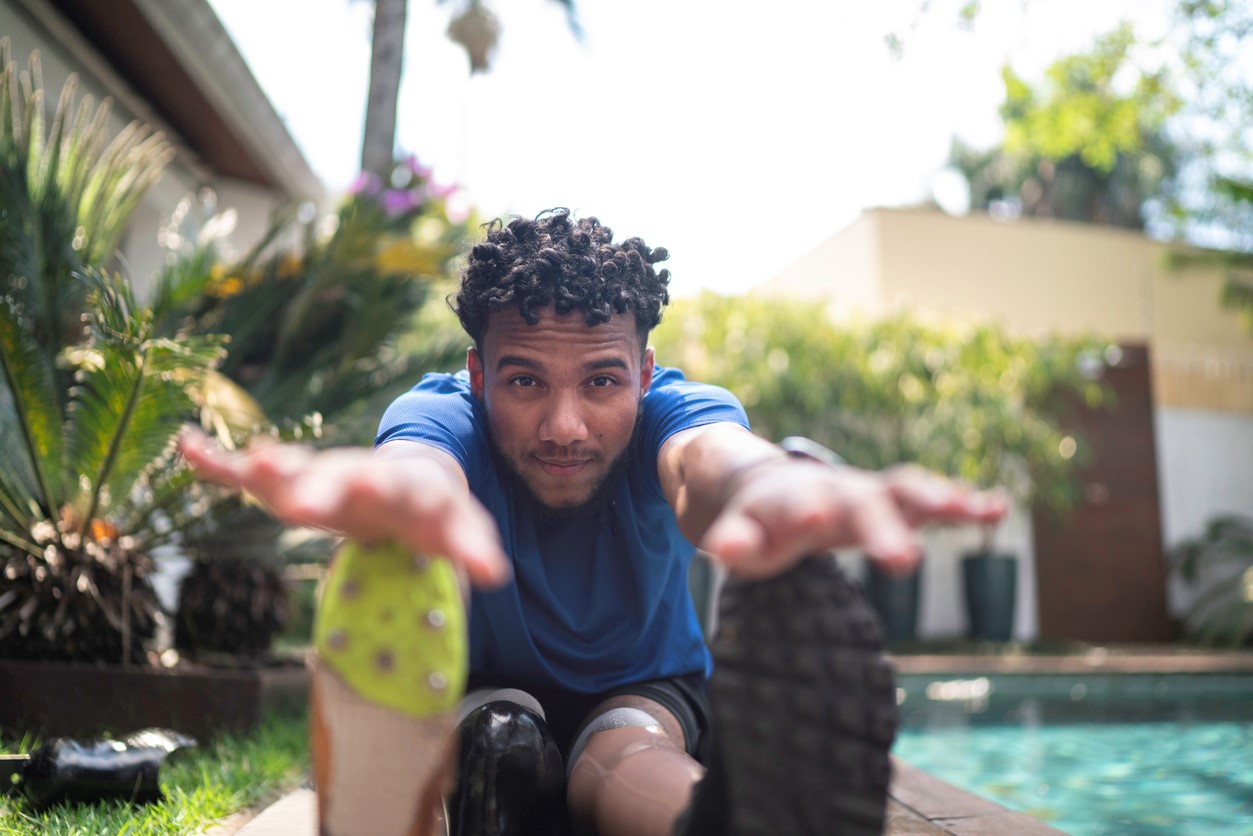 If you have a swimming pool, it is easy to adapt it to fit your health and fitness goals conveniently and simply. But what if you just don't feel like getting wet or in the pool one day? If you want to get in shape or work out at home without getting in the water, there are plenty of things you can do.
Looking for workout activities that don't require getting in the water? Consider these ideas:
Backyard Workouts
Even though it seems that there would be no rules for backyard workouts, there are some tips that you should follow for best results. If you are working out with a buddy, you likely will find more success and continuity. A fitness partner can help hold you accountable, while also giving each of you a second source of motivation when times are tough, or you simply don't want to work out. Another tip for independent fitness regimens is to challenge yourself and try to beat your best time. That is, if you are doing calisthenics, try to improve your time or increase your repetitions to continually challenge yourself to do better. Track your performance and results with an online tool or spreadsheet if that helps. Sometimes seeing a goal in front of you written down can serve as a motivator.
Core Exercises
A top fitness practice is to maintain core body strength. The core muscle groups in your body help preserve coordination, flexibility, and balance which are all integral to our health at all ages. Maintaining core strength can prevent falls, which could have catastrophic consequences for older individuals. Recovering from a nasty fall can be filled with problems and complications, creating additional health concerns for many. There are lots of workouts and exercises that build core strength that use a swimming pool, such as water-treading. However, if you are opposed to getting in the water, consider stretching, yoga, and Pilates. Make your backyard a place to stretch and practice yoga, peacefully, and conveniently. Your yard should provide the room needed for Pilates work, which often requires a bit of space. No special equipment is needed, and you can tune-in to YouTube for videos that guide you through different workouts.
If you desire a lighter workout, you can even sit in the grass or on the porch and inhale deeply. Stretch your arms and legs. Feel your joints and challenge yourself to be more flexible. It can be quite cathartic and relaxing to fully stretch. By deep-stretching and moving your joints, you are allowing for optimal blood flow which can make you feel restored and calm. Consider taking time daily for deep stretches and some quiet meditation for better holistic health overall. Even five minutes a day can have astounding impacts on the way that you feel and your health. Try it for yourself!
Additional Advantages
Exercising outside can be inspiring and invigorating. A brisk walk, a quick jog, or climbing a nearby hill all are outdoor workouts that will challenge your muscles and enhance your regimen with inclines, declines, and obstacles. Did you know that you can improve your mood and lift self-esteem with outdoor workouts? Researchers claim that exercising outside proves effective at changing more than your body but also your mind, spirit, and overall wellbeing, too. The key takeaway is to get outside and do something rigorous. Your body will thank you later.
Unconventional Cardio
Cardio exercise is what burns fat and helps make the number that you see on the scale go down, but not all cardio is the same. For something different and that you can easily do in the comfort of your own backyard, try some unconventional cardio activities. From traditional calisthenics to some new and improved dance moves, give some not-so-classic cardio a try!
Some ideas to incorporate in your backyard workout include:
• Box Jumps and Cross Jacks
• Skipping rope
• High march – lift those knees high!
• Jumping jacks and squats
• Kickboxing
• Jumps and hopping
• Crab walking- it is harder than it looks!
• Dance, dance, dance
Cardio gets the blood pumping and your heart rate up, so integrate at least a few minutes of cardio in your backyard workout routine.
Step Work
Count and keep track of your steps. Whether you are in the yard doing basic landscaping or intentionally working out doing high-knee marches in the backyard by the pool, a step-counter can help make sure you reach your daily goals. Many of us walk miles daily without realizing it whereas others may walk a lot less than is considered healthy. A tracker of some kind can help motivate and provide a tangible measure of how you are doing. Choose a tracking app for your phone or computer or invest in a tracker that you wear like a watch. The choice is yours!
Swimming Pool Fitness
Now that you have some exercise ideas for outside the pool, what about some in-the-water pool workouts! The first order of business if you want to take a dip in the water is to ensure it is a sparkling clean pool. Especially if you do not use your pool with any regularity, it is critical to test and treat the water for bacteria before you decide to take a swim. Cloudy water can be a sign of many things, from a faulty pump to algae in the water.
Is your swimming pool not sparkling clean enough for swimming? Call the industry professionals at Pool Troopers. We offer the services you need to keep your pool workout-ready:
• Pool cleaning service for pristine water that is crystal clear.
• Chemical treatment service for safe and pH balanced water.
• Repairs and new equipment to keep your pool performing up to par.
Now it is time to consider some sensible pool exercises like stretches, weight training, and cardio in the pool. It is truly amazing the difference that the resistance of the water makes when working out. Invest in a few basic pool tools for your own dedicated workouts, including things like a pool noodle, kickboard, water dumbbell, and weights. While not required for a rigorous routine, it definitely makes working out more fun and a bit more inspiring. After all, if you don't feel motivated and interested in fitness, it can be difficult to maintain any consistency and show progress toward goals. Treat yourself to the tools and equipment that make your workouts more complex, more effective, and more fun. You are worth it!
If you own a pool in Florida, Arizona, or Texas, reach out to swimming pool professionals at Pool Troopers. Since 1952, we have been helping homeowners maintain their pools. From chemical service and cleaning to major pool repairs and new equipment, we can help! Check out our frequently asked questions to learn more about the services that we offer and our dedication to customer satisfaction. Call or contact us today!