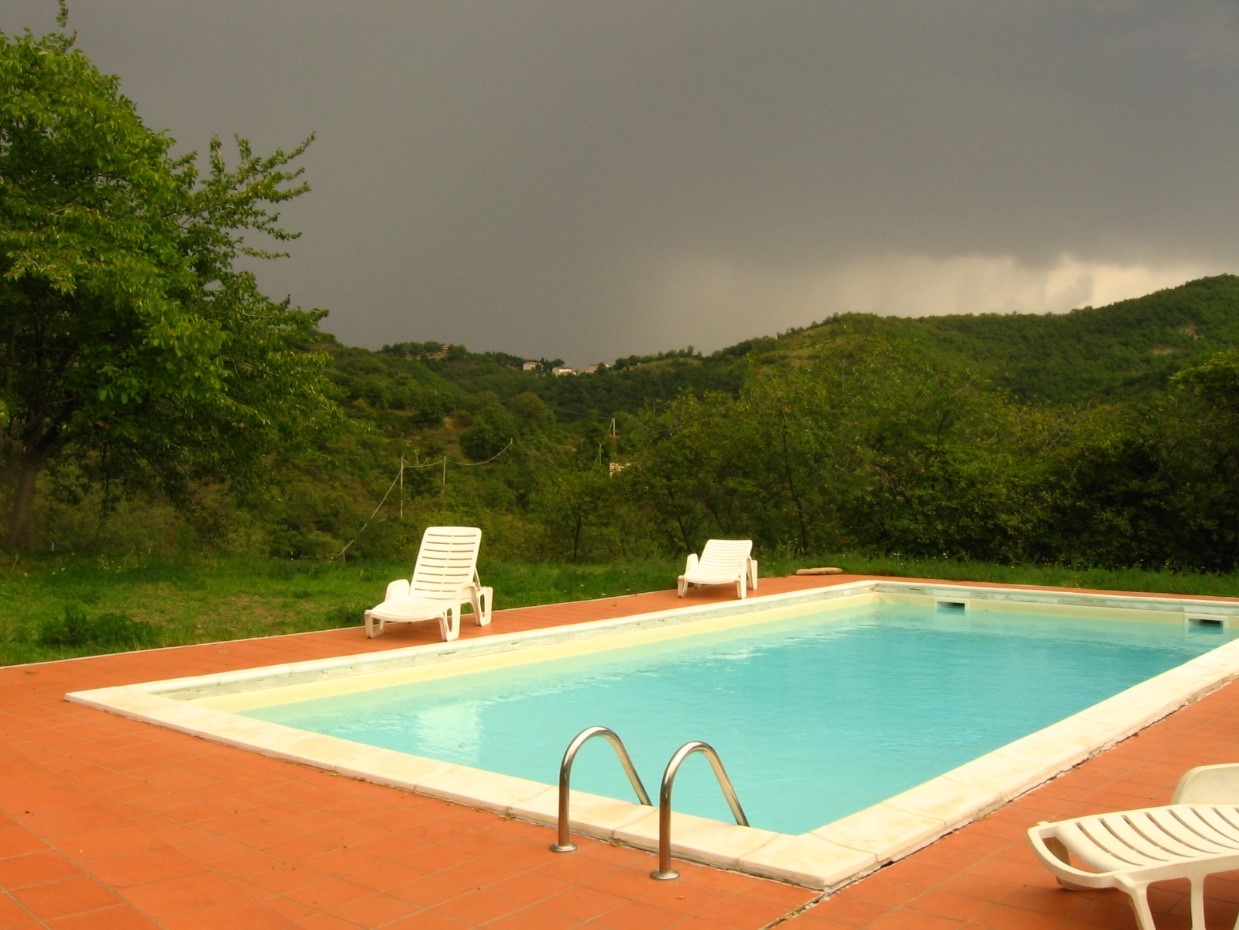 Hurricane season is the time of year when storms are forming off the coast and land is most prone to severe weather. The Atlantic Hurricane Season is from June 1 until November 30. Swimming pool maintenance in regions vulnerable to hurricanes includes preparations to prevent damage during these storms. Start preparing and reach out to the professionals at Pool Troopers to schedule service if you live in Florida, or Texas. Is your pool ready for Hurricane season?
Here is what you need to know about prepping your swimming pool for the upcoming hurricane season:
Cut the Power
When a storm is looming, the safest approach is to cut the power and shut off the electricity to your pool. Each electric element, like the heater or motor, should be switched off individually at the breaker before the storm. These features are susceptible to damage during wind and rainfall, which could easily make them casualties of the hurricane if you fail to disconnect them before the storm strikes. Pool Motors can be severely damaged and cause health hazards if they go underwater while still having power.
Never attempt to deal with pool power or breakers if the motor is currently underwater. Never stand in water to deal with electrical issues, wait until the above groundwater dissipates before addressing the breakers if you forgot before the storm. You should be able to address the pool power panel from the house main breakers. If you cannot, you may want to consult with an electrician prior to storm season.
Having an easy to reach dry cut off to your whole pool equipment pad in the garage would be a nice thing in the middle of a storm.
Do Not Drain the Water
A common misconception among those with pools is that the pool should be drained before a severe storm, when in fact you should not drain your pool. Reducing the water level even by a couple of feet can leave it vulnerable to issues of popping and structural integrity. Especially if you have an inground pool, do not drain the water and open the potential for the pool to pop – raise from the ground. Above-ground pools need the weight of the water to maintain their shape and stability. Furthermore, keeping water in any kind of swimming pool during severe weather conditions helps to protect the finish and surface from damage incurred from wind-blown debris.
Clean, Clear, and Secure
The importance of clearing your pool deck and surrounding yard before a hurricane cannot be emphasized enough. When these objects become airborne from wind and weather, it can become a very dangerous and potentially devastating situation. Get rid of all items near and around the pool like toys, furniture, and anything that cannot be tied or fastened down. Make sure that you also remove things like pool maintenance items, skimmer lids, and umbrellas, too. Tossing these items in the pool for protection is unwise as they can easily damage the finish of your pool tile or surfacing.
Protect your Pool Pump
One piece of advice pool professionals offer to pool owners is to protect their pool pump from damage during a storm. These components can be pricey, so it makes sense to go to extra effort to preserve them and prevent damage. Stop any power surges by turning off each of the pool components at the breaker box. Never turn on a wet or waterlogged pump. It is critical that the swimming pool pump be completely dry before you even attempt to restore power to it.
Trim the Trees and Foliage
When you live in a region that is susceptible to hurricanes, you know the importance of maintaining the yard and trimming trees to avoid damage to your pool and property. Make sure that there are no branches or limbs that could break free during severe winds or hurricane conditions, causing significant damage or costs. Make early hurricane season the time to prune shrubs, hedges, and trees, before storms strike. Got vegetation near the pool? Make sure this is trimmed and tidied well before the foul weather is due. Talk to local landscaping companies about routine maintenance to make it easier and convenient for homeowners.
Add some Chlorine
Many pool professionals recommend chemical service both before and after a hurricane. Prior to the storm, extra chlorine in the water may help to prevent contamination. After the storm, pool service technicians may chlorinate to reduce any bacteria, debris, or contaminants that have found their way in the pool during the storm. The water should be tested to determine the balance before anyone takes a dip post-hurricane.
Never swim in a pool that has been subject to Storm Water overflow. This stormwater may contain sewage, wastewater, sea or lake water and road oils. It is potentially unsafe for human swimming. Always treat pools subject to storm water intrusion professionally before swimming.
Tips for After the Storm
When the storm does die down, take some time to address and restore your pool. First, assess it for any damages that may have occurred during the hurricane. Does it look okay? Contact your pool professional for pool repairs and services right away, as it may be a busy time to schedule service provision. Again, do not hastily drain the pool after the storm. Draining a pool too soon after a storm makes it susceptible to float out of the ground due to high groundwater levels post-storm. Wait until the professionals can evaluate your pool for damage. Dry out your pump and give it some time before firing it up to ensure the interior is also free from residual moisture.
As you can see, a bit of preparation can lead to an abundance of prevention in the case of maintaining a pool during hurricane season. To schedule service or learn more about swimming pools, talk to the experts at Pool Troopers. Homeowners in Texas, Arizona, and Florida rely on our expertise and insight to prevent damage and preserve their pool year-round. Call and schedule an appointment today before storms strike!