Have you ever wondered how to clean your pool without the help of a pool service company? Well, you're in luck! Pool Troopers is committed to helping not only their customers, but pool owners everywhere by sharing 7 easy steps that will have you pool looking clean and clear! Keep reading to gather our simple instructions on how to clean your pool.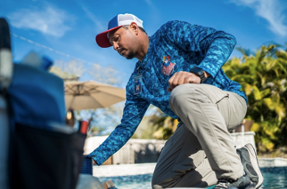 First, make sure the non-shock card is intact and proceed by turning off the timer. You should hear a click when doing so. Now, go to your sub-panel breaker and inside it locate the pool pump breaker and turn it off. Again, you should hear a click. Lastly, you should hear the pressure release when you turn the pool pump breaker off. Once all of this has been completed, you're ready to start cleaning your pool safely!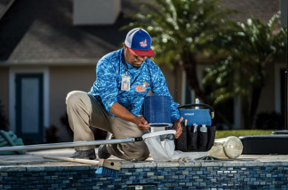 Step 2: Clean the Filter
There are different ways to clean your filter, depending on what type you own. The different types of pool filters are cartridge filters, DE filters, sand filters, and quad filters. Once you determine which filter you have, you must look up the most efficient and safe way to clean that specific product. For more information on filters, keep an eye out for our blog post on filters and a more in depth explanation of their specific cleaning needs!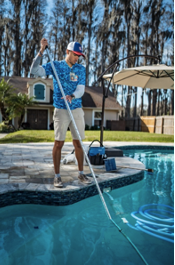 Grab a tile brush and pool tile safe soap. The soap usually has muriatic acid in it which can stain your deck, so be sure to hold it over the edge of your pool instead of directly over your patio to prevent spillage and stains. When starting the brushing process, you want to start at the skimmer and work your way around the pool from there. Make sure to get the whole tile, top to bottom. When you get to the corners, make sure to use an up and down motion to get under the corners where algae usually grows. Make sure to take a look back at what you've brushed so far and double check you've cleaned all of the tile.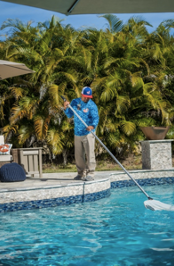 Make sure you have your telepole ready with a net attached to it. You can start by determining the flow of the pattern and work against that so you can keep the debris in your net. Once your net starts to get full, make sure to empty the debris in a trash bin or an appropriate place in your yard.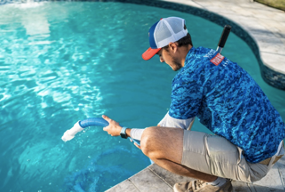 Now that you are ready to vacuum your pool, you will want to first make sure that you pool is turned back on. The pool with need to be on in order to work with the vacuum to ensure a proper cleaning. Now, you'll want to lock your vacuum head into your hose. Next, drop your hose into the pool and plug it into your vacuum's base. You can extend your pole as long as you need it so you can have better control on it. Submerge your hose into the pool so it is full of water. Then, with the part of the hose that is outside of the water, bring that over to the skimmer or wall port and plug it in there (pools can have either options, be sure to determine what port you will use before vacuuming.) Now that your vacuum is plugged in and on, you want to make sure to get all of the spots in the pool, even the ones where you can't see any debris and algae. Once you have vacuumed the whole pool, you can take your vacuum head out of the water and unplug your hose from the skimmer. When retrieving the hose from the water, you want to wind up the hose nice and tight and connect the hose with the hose connector.
Stand at the edge of your pool and start brushing down the bottom of your pool. You want to bend your knees and not just lean over, that way you don't hurt your back. Repeat this process around the entire pool using overlapping strokes. Once you reach your pool steps, it's important that you get low and brush across each of the steps. If the vacuum doesn't reach every corner, brushing is a good way to get rid of that excess debris. Be careful when you get to the ladder as they do age and can become rusty, so gently brush behind them and underneath them. Also, be cautious when brushing around the lights as some may become loose over time, and do not brush right on top of them.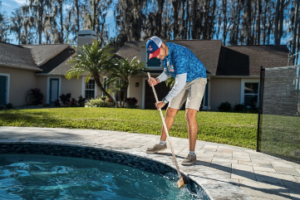 Step 7: Net the Pool
The last step is to do a final net of the pool to collect anything that might have come up from brushing or might have fallen into the pool during the cleaning process. Take your telepole and repeat step four.
*If you have a Sand or DE filter, make sure you check your water level after the cleaning to ensure that the water level in your pool is high enough.
In addition to cleaning your pool, it is important that the water is chemically treated. If you are feeling overwhelmed about cleaning your pool or need help adding the right amount of chemicals, give Pool Troopers a call at 866-766-6877. Pool Troopers has been rated #1 by Pool and Spa News for the last 3 consecutive years and offers pool cleaning, chemical, and repair service in Florida, Texas, Arizona, South Carolina, and Georgia.