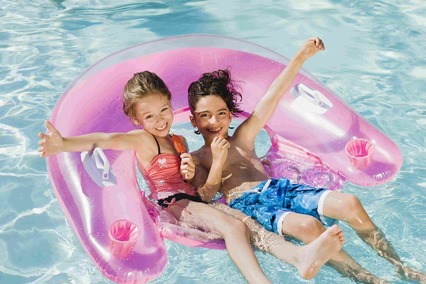 Having the right pool accessories can add a barrel of fun for the kids and others who use your pool. When children are entertaining friends, pool toys add to the party atmosphere. Pool Troopers has some suggestions and information on the latest additions for fun. Aside from the traditional slides, noodles and water mattresses, your children have a bevy of accessories for water learning and pool fun.
Floats and Swim Rings
Even babies have a huge choice of pool accessories to aid in the learning-to-swim and enjoying-water process. Included are:
• Infant floats
• Baby inflatable floats
• Baby inflatable seats
• Floats with canopies
With such designs as ducks, sailboats, starfish, tugboats and an assortment of animals, your baby can begin to enjoy the pool safely and in a fun environment. Bright colors and unique shapes enliven your child's beginning experience of your pool.
You may want to consider several factors in choosing a float for your baby:
• Sun protection
• Is it safe?
• Is the size right?
Cost may be a factor, but the other considerations, such as safety, are very important as well.
Arm Bands
Available in a range of colors and designs, armbands are a favorite accessory of kids that are learning to swim. Your child will love the added security and flotation that arm bands bring, as well as the lively colors and designs that are available.
Foam Kickboards
Kickboards offer fun for your whole family, as some have grip holes and are unsinkable. Moreover, children can practice their kicking and swimming. New swimmers in the family will feel secure while using the kickboard as a training accessory.
Noodle Accessories
Using the noodle becomes more fun for the children, as water fights can be even more fun with a Noodle Head Shooter that fills up with water. It attaches to the end of the noodle, sprays water and is great for kids over 5 years old. Noodles also come in a variety of fun shapes, such as the Zoo Noodles™ Doodle.
Group Inflatables
From colorful castles to cool cubes to labyrinth islands, your children and their friends can enjoy group fun right in your pool. As a matter of fact, the whole family can enjoy a large float that can often be placed in the yard as a playhouse as well.
Water Slides
You can buy inflatable water slides that can be moved from the pool to the backyard, if you do not want to add a permanent metal or plastic slide. Pool parties become more fun with the addition of a water slide.
Games
Some of the games possible for poolside fun include:
• Water Volleyball
• Water Arcade
• Splash Fountain
Add a volleyball court with the installation of a pool volleyball net, which can be used with beach balls or an included ball. Have you ever thought of having an arcade in your pool? It is possible with a floating arcade, made for the included water guns and inspired by the arcade games at the local county fair. Additionally, adding a fountain to your pool can add the splash factor for the whole family.
While you and your family are having fun with these pool accessories, remember to re-apply sunscreen often for maximum protection. You will also want to be sure that the pool environment and water are of the highest quality.
At Pool Troopers, we have a variety of services that are ideal for keeping your pool clean and safe. Browse our website and read the blog to learn more about how we can help you enjoy your pool to its fullest.
Always remember to remove all pool toys from the water and surrounding deck when finished and to close and latch all pool fences and baby gates so as not to attract unsupervised children to the water.