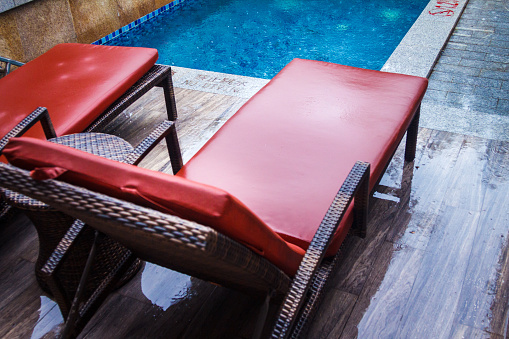 Floridians understand Florida is a magnet for hurricanes. The 2018 hurricane season (June 1st to November 30th) is predicted to be as bad as 2017, which included the infamous Harvey, Irma and Maria. The best anyone can say about a hurricane heading your way is that at least you have some time to prepare.
As pool experts in Florida since 1952, at Pool Troopers we've gone through more hurricanes than we care to think about. People have asked us countless times how to prepare a pool for a hurricane. Just as with everything else during hurricane season, the right preparation can make all the difference.
Don't Drain Your Pool
The problem with draining a pool is that the pool needs the weight of the water to remain in the ground. The last thing you want to have happen is for your pool to "pop" or "float" out of the ground because of the lift pressure caused by the water-soaked ground. Water in the pool also protects the pool from being damaged by flying debris.
Some people worry that their pool will overflow if it isn't drained or at least has the level of the water lowered. With all the rain from a hurricane, that's possible, but it wouldn't be any different than if the pool wasn't there at all. Adequate drainage is part of the design of every well-constructed pool.
If the area surrounding the pool is prone to flooding, you can use a garden hose to set up a siphon before the storm. Run the hose to a part of the yard that's 2-3 feet lower than the pool. If the pool starts to overflow, you should be able to quickly start the siphon providing you can safely go outside.
Better yet talk to a landscape professional and come up with a corrective plan for your areas poor drainage.
Add Extra Chlorine
Both before and after the storm, you want to prevent contamination from storm water and debris.
Several hours before the storm hits, lower the pH to 7.2. Add a shock dose of chlorine and run the filter for several hours.
After the storm, add another shock dose of chlorine. If the pool is a muddy color from floodwater, you can use a flocculant to clump particles, so they sink and can be vacuumed. Likely, a flooded pool will have a high phosphate level, so use a phosphate removing chemical. Feel free to contact Pool Troopers for assistance.
Of course Pool Troopers clients don't need to worry about this as we will clean up pools after the storm and only charge for the extra cleanings and chemicals needed to get your pool back to swim safe!
Turn Off the Power
Turn off the circuit breakers for your pool's mechanical systems and lighting to prevent electrical surge damage. Nothing should be operational during the hurricane.
After the hurricane has passed, don't turn the power back on until all debris has been removed and the electrical system has been inspected for damage. We recommend a professional examination of the system before turning it on, especially if you believe there could be electrical damage.
Never turn it on if there are still flood waters present or if your pool equipment is under water!
Don't Cover Your Pool
An average pool cover won't stand up to hurricane force winds and will be blown off the pool or torn by tree branches or other airborne debris. Safety covers are much stronger, but still won't be able to withstand a falling tree or large branch.
Since 1952, Pool Troopers has been providing a full range of pool services, including repairs. Contact our Customer Service Team to arrange for help with your pool at any time, including hurricane season. "We do all the work. You have all the fun."
Hurricane Resources
National Hurricane Center: The hurricane experts headquartered in Miami
National Weather Service: Up-to-date weather information
FEMA: Disaster relief
Red Cross: Disaster relief