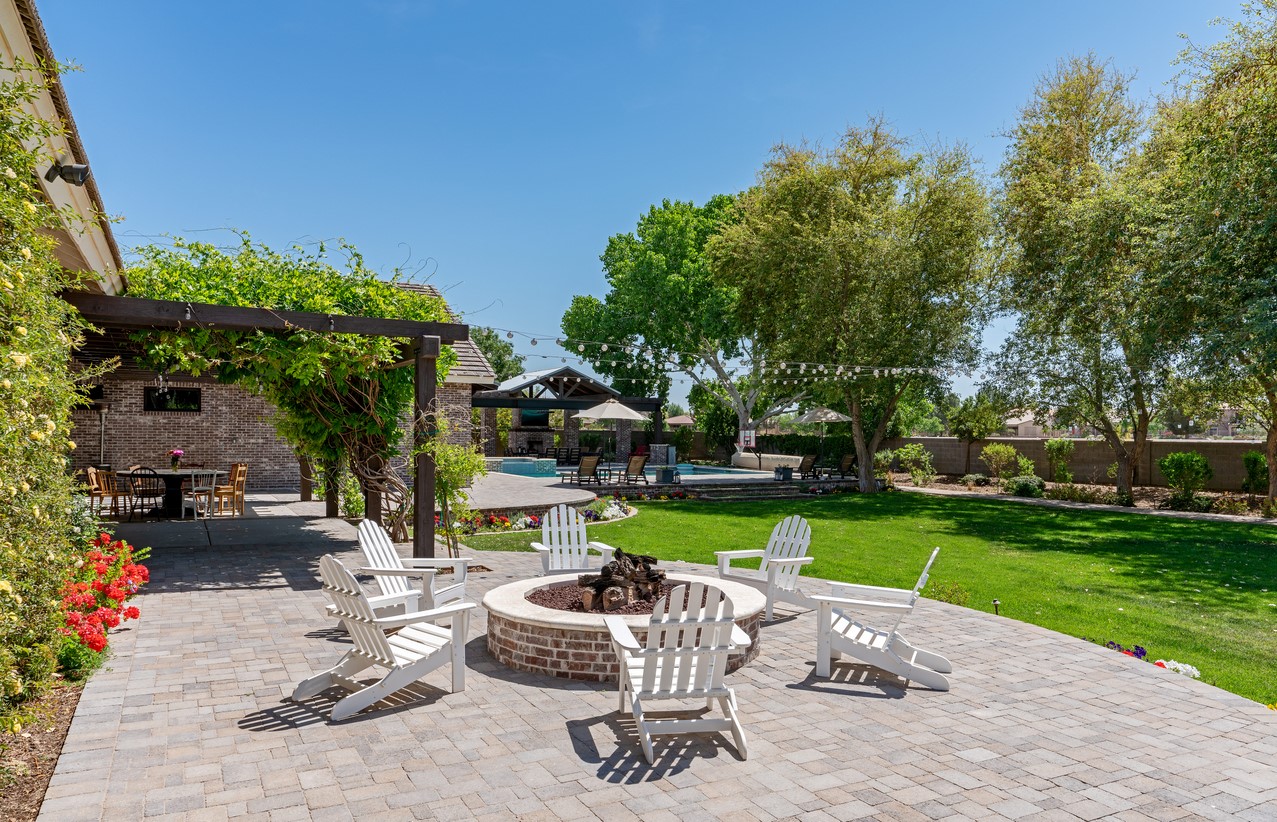 Folks may be spending more time at home this spring and summer due to stay-at-home orders and social distancing, so now is the time to make the most of your backyard! Create the perfect backyard paradise for summer that will make you forget about ever leaving the comfort of your own backyard. Eat outside, host parties, enjoy family time, and play games in a backyard that is ready for anything. Use the following tips to create an outdoor living and recreation space that you will want to spend time in every day.
Start with a visit from your swimming pool professional to ensure your pool in Texas, Florida, or Arizona, is up to par for paradise! Other tips include these suggestions:
Make the Pool a Priority
What would your backyard paradise be without a sparkling, cool swimming pool? Your backyard paradise begins with your pool. Make time to give it the attention it deserves. Need pool repairs and services? Call a professional. Want to jazz things up a bit? Consider adding a water feature, like a waterfall or fountain to your pool deck. To ensure your water stays crystal clear, secure regular chemical service, which helps curb the growth of bacteria, algae, and mildew in and around your swimming pool.
It Must Be Functional, too
Don't overlook functionality when constructing your backyard paradise. Make sure that it works for your needs and lifestyle. Think carefully about how you plan to use the space: do you want a quiet place to sit and lounge? Do you regularly host parties here? What about children and pets? For instance, do not invest your resources into creating an outdoor kitchen if you hate to cook. On the other hand, if you do cook for others routinely, craft a space that allows everyone to engage, mingle, and socialize while food is being prepared. The takeaway message from all this is to consider how you want your backyard to function – and go for it!
Build Something
Create an instant transformation from backyard to oasis by building something. Consider bringing pergolas, arches, and gazebos to the mix and creating separate and special areas within your backyard space. You do not have to be a carpenter to construct these types of outdoor structures. Many retailers sell prefabricated variations or kits, which can be easily built over a weekend. Take the time to set your structure in a firm foundation to prevent foul weather from taking a toll, and have a contractor pour a concrete slab or pour your own concrete to ground the footings for longevity.
Maintain a Sense of Flow
Another thing to consider is the flow through the space. Especially if you have a pool as the prime focal point of your backyard, it is important to keep traffic flowing. When setting up distinctive spaces, such as a dining area, play area, garden, or other specific areas, utilize paths or walkways to guide guests and visitors. This prevents the chaos of foot traffic through your yard, landscape, and property that could create a feeling of crowdedness.
Think About a Theme
Themes for outdoor spaces are fun and serve as a guide for the décor and accents that you will eventually integrate. From a luxurious spa or yoga retreat to a kid-friendly play yard or sports-themed hangout, a theme helps to carve out what you plan to use the space for. Check out the outdoor space at homes in your neighborhood or in communal settings to see how colors, scale, and texture can help create and concoct theme. Next, look for pieces that support and echo this theme throughout the backyard. From garden flags to pool toys, accessorize your oasis with lots of visual interest.
Incorporate the Senses
Make your backyard paradise a place that stimulates and tickles the senses. Plant fragrant flowers and herbs that have therapeutic qualities, like lavender, lemongrass, and eucalyptus. Add mint, basil, and catnip around borders, paths, and edges to scent the air. Use potted plants to bring pops of color and visual interest to your yard. Potted geraniums, orchid, or the super-easy Impatiens are good choices for the grow zone. Hang a set of bamboo wind chimes for a soothing and exotic sound and consider a small fountain that's relaxing to watch and brings some white noise to your space.
Another idea is to plant edible flowers, like nasturtium, and plenty of fresh herbs, like chives or cilantro, for a tasty addition to the meals that you prepare in your backyard space. Looking for herbs that will thrive and grow in hot climates, such as Arizona, Texas, and Florida? Try rosemary, oregano, and thyme for these regions of the US.
Enhance Outdoor Lighting Elements
Outdoor lighting is far more than merely aesthetic. Outdoor lighting features help to secure your property and maintain your safety in the home. Enhancing outdoor lighting elements is not only prudent, it is vital to constructing your backyard paradise. There are levels of lighting involved in adequately illuminating your outdoor living space. First, you need a good ambient light that will provide enough light for recreation and activities at night; find unique fixtures and bulbs at any home improvement vendor. Next, task lights help to brighten up the spots that you use frequently, like reading lamps, dining table lights, or pool lights. Add footlights and accent lights to make your backyard easy to traverse and distinctive. Use lights that reinforce your theme, such as a particular color. Try solar-powered light fixtures and features to be energy efficient in the backyard.
Bring the Indoors Out
An effective way to give your backyard that sanctuary, soothing feel is to extend the inside to the outdoors. Use accents and accessories the way that you would do inside your home. Create an atmosphere using items that you love and that further echo the theme that you have flowing through your interior home space. Some ideas for bringing the indoors out include:
• Suspend chandelier light fixtures from tree branches, using battery-operated tea lights in the bulb recesses for a mood lighting that is both elegant and useful.
• Use oversized pillows and throws from inside on the patio or pool deck for warmth and comfort when lounging.
• Suspend indoor window curtain panels from the corners of pergolas, arches, and gazebos for a fluttering effect that is aesthetically appealing. Don't have window treatments? Use swags and remnants of fabric to achieve the same effect.
• Roll out an indoor area rug, 5' by 7' for instance, under your outdoor furniture for texture and a fun spot for kids to play.
• Never hang lights over a pool, however. It is against most pool codes to have electrical lines of any kind over a pool.
Do you live in Texas, Arizona, or Florida? Make the most of your pool and backyard with these tips. When it comes to maintaining your swimming pool, you can rely on the expertise and insight of our team at Pool Troopers. We have been servicing, repairing, and treating pools since 1952. Transform your backyard into a space that you want to spend all your time with these tips and take the steps to maintain your swimming pool today!